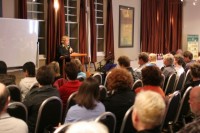 What a great night Friday night was, with the official launch of [Kiama FutureCare](http://KiamaFutureCare.org).
A little over 60 people attended as the Mayor of Kiama, Sandra McCarthy, spoke about climate change, about what the Council has done and continues to do, and about the role that grass-roots community groups like Jamberoo FutureCare and Kiama FutureCare can play in the challenges ahead. Also in attendance from Council were our Deputy Mayor, Ben van der Wijngaart (who arrived on his new electric motorbike!), and Councillor Monique Dare-Ward.
It was great talking to the 11 eco businesses that had display tables on the night – I especially enjoyed meeting Chrissy and Simon from [Eco Manifesto](http://www.ecomanifesto.com.au), who I've chatted with several times via email but never met in person.
The workshop session ran smoothly, and I think we'll have a ton of project ideas to consider for the next year (at least!). The Sebel Harbourside was a fantastic location, and they must be thanked for providing us the room free of charge. It's really gratifying that businesses like that are willing to help out small community groups.
A brief write-up has already been posted on the [Topix](http://www.topix.com/au/kiama/2009/06/the-kiama-futurecare-launch-well-attended) web site.