ANZAC Day has always been a special day in my family. My grandfather served in New Guinea in World War II, and his brother (a member of Z Force) was killed in service in Borneo. My grandfather's birthday is April 25th (ANZAC Day), and he has lived on Anzac Park, a few hundred metres from the Australian War Memorial in Canberra, since about 1950.
Each year, we all gather at Granddad's house in the morning. He gets dressed up in his suit and medals, and we wander across the road to the parade ground to watch the march.
In years gone by, he'd meet up with a whole bunch of ex-service mates and they'd all disappear down to the marshalling area. My brother and I would cut rosemary sprigs from the hedge along his driveway and hand them out to people walking past. Then we'd run over to watch the march and try to pick him out of the crowd.
Over the years, he's joined the march further and further up the parade ground so he didn't have to walk so far. The number of mates meeting up with him has dwindled too. He's 92 now, and just attends the memorial service.
After the march we usually have a BBQ lunch, then sit around catching up with the aunts and uncles and playing with the kids. When the air force jets fly down Anzac Parade at noon, they go right over the top of his house – the noise is incredible!
I always enjoy having a look around Granddad's garden. I can remember it from when I was a toddler, and it's barely changed in all that time.
He's always had a passionfruit vine growing over the back door:
The main vegie garden has neat concrete paths and good sized beds: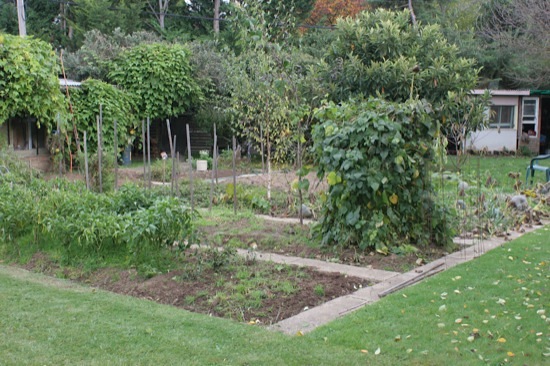 Down the back are the berries – raspberries, loganberries, currants, etc. I don't know if they're the same vines, but the same variety of berries has been growing in that spot for as long as I can remember!
There are a few multi-grafted apple trees, that are usually still loaded with fruit at this time of year:
The old play house where my Mum and her sister used to play is still there, tucked under the grape vines. My brother and I also used to play in when we were kids, and Mum's old miniature china tea set was still in it then. It's probably still there now – I forgot to check!
There have always been kiwifruit vines along the side of the main shed, too. I've no idea how old these vines are, but they're still productive. There's also a choko vine in there competing for climbing frame space.
ANZAC Day is the traditional day to plant your broad beans, and every year my aunt Sue forks over and plants out a bed for Granddad. This year they'll go in that lovely clear levelled bed:
There's always something new to discover in Granddad's yard. He's got shed after shed (7 or 8 of them, I think!) full of car parts, garden implements, tools, old kerosene lamps, jam tins, timber, plant pots – you name it, he's probably got it tucked away somewhere! I'm sure some of the piles of stuff are 50 years old, and haven't been touched in all that time.