Here's another quick tip for gardeners: you can get awesome garden tools for next to nothing by buying second hand!
You can find garden tools going cheap at garage sales, online at places like Facebook or Craigslist, and at tip shops.
I like to go for the older tools. They don't look as 'nice' as newer ones, so they often sell for less, but they're far more sturdy. These are the ones that look like something from your grandpa's shed.
Old tools will have solid timber shafts, strong handles, and the working end is made out of proper steel. Older spades and shovels will have nice strong heads instead of the crappy pressed sheet metal found in newer tools. Older garden forks will have solid tines that won't bend in use.
I recently bought this fork, rake, hand saw and gardening book for $10: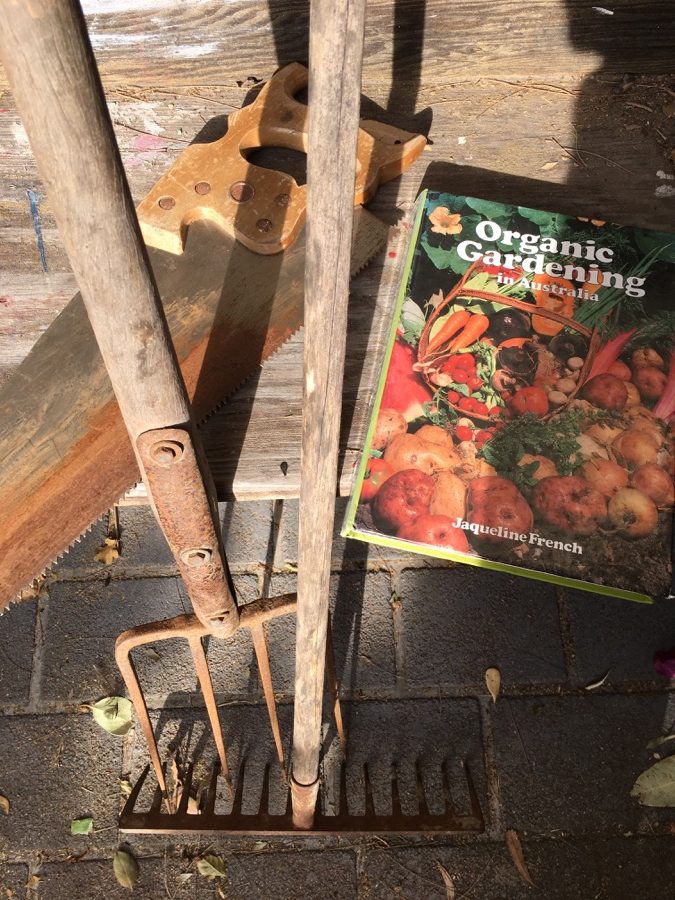 Garden tools can be restored with very little work. The old grey timber shafts will come alive with a quick sand and a rub of boiled linseed oil. If they're cracked or broken, you can usually find replacements at the tip shop.
The head can be cleaned up with a wire brush and steel wool, and then rubbed with a bit of oil for rust protection – chainsaw oil works well, but use whatever you have. Sometimes you need to add a screw or bolt to fasten the head to the handle properly. I like to sharpen spades with a few strokes of a file, too.
Old tools like these can be really cheap. Things like rakes, spades and garden forks are usually $3-5 each at my local tip shop. They always seem to have at least a few tools whenever I visit, and I've bought quite a few just to have spares around the yard.
I got this lot for $20 – a mattock and spade, saucepan (for use as a chicken water dish), two hand saws, leather tool belt, nice hardwood offcuts (for my woodworking hobby!), some metal brackets and two dog dishes:
Because they're so cheap, I can leave tools where I use them. I've got a fork next to the compost heap. There are a couple different types of long-handled shovels in the back shed, along with a pry-bar for digging post holes. There's a fork and spade on the front porch for use in the front garden, and an axe and block-splitter up the back where I chop firewood. Plus I have all my good tools kept in the garage.
I keep a rake, spade and garden fork in the 6-bay chicken garden, hanging on nails in posts, right where I use them.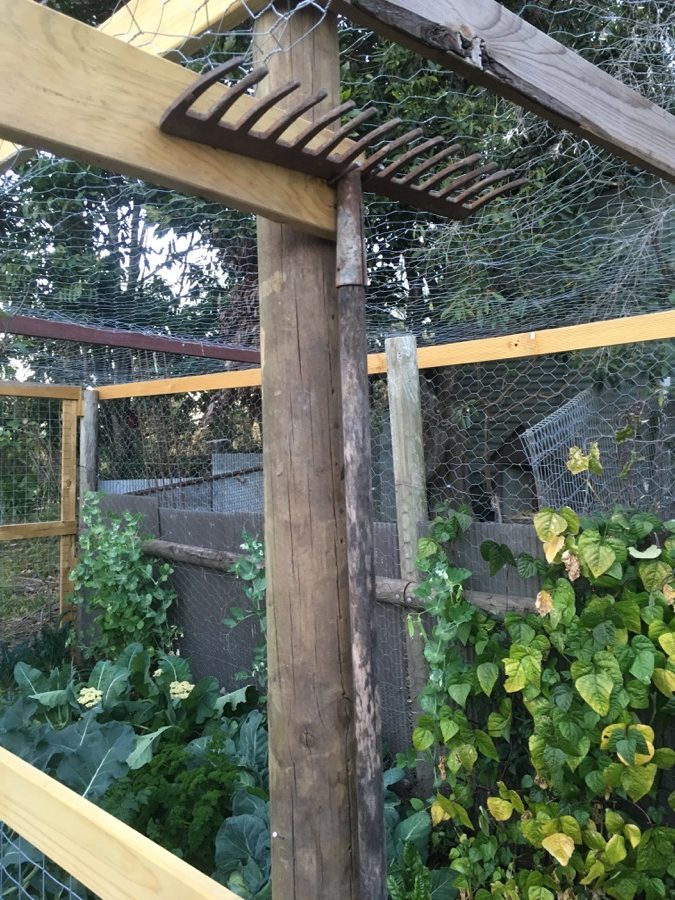 Yeah, it's not ideal to leave garden tools out in the weather. I at least store them under cover where it's practical. But if you keep them clean and oil them occasionally, they'll last many years even left in the open. And they're cheap as anything to replace anyway!