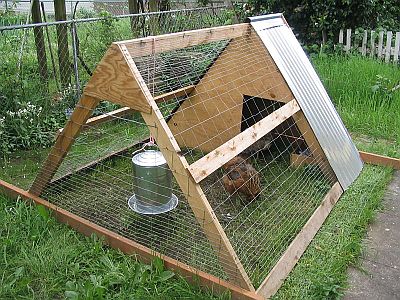 When thinking about a coop for our chickens to live in, we wanted something practical, non-permanent, and space-efficient. We were only planning to have 3 or 4 chickens so we didn't want to build anything too big or expensive, but we needed to protect them from neighbours' cats and keep them comfortable.
Looking around the net, the ['chicken ark'](http://en.wikipedia.org/wiki/Chicken_tractor) (or 'chicken tractor') concept seemed to best meet all our needs.
To get some idea of the number of variations on the basic chicken tractor, check out this chicken tractor gallery.
I found oodles of resources for chicken ark plans – some of the better ones were these:
– [Catawba Coops – urban coops for urbane chickens](http://affiliate.catawbacoops.com/idevaffiliate.php?id=136) (lots of great photos, plus you can buy downloadable chicken ark plans)
– [Building A Chicken Coop](http://cb1508.chickcoop.hop.clickbank.net/?tid=GC) (downloadable chicken coop plans to buy)
– [chicken ark plans](http://www.organicgardening.com/pdf/coop_plans.pdf)
– [BackyardChickens.com tractor photos](http://www.backyardchickens.com/a/chicken-tractors-mobile-chicken-coop-designs)
– [Turn Old Pallets Into A Chicken Tractor](http://www.instructables.com/id/Turn-Old-Pallets-Into-A-Chicken-Tractor/) (includes video)
There are commercial options, too, if you aren't that handy or don't have the spare time to build a chicken ark yourself. Check out my post Where To Buy Chicken Tractors.
Of course, none of these were exactly what we wanted :-). There were lots of good ideas, though, and we got a good sense of the features we wanted in our own ark. After a few nights spent researching and sketching, measuring and planning, we came up with our own chicken ark plans.
Stay tuned for a follow-up post later in the week…
Oh, and don't forget – if you are looking for chickens to buy, have a look at my [Where To Buy Chickens](http://green-change.com/illawarra-chickens/) page.