I've been meaning to post about FreeCycle for a while. It's a great way to find a new home for stuff you no longer want, or to find stuff you need that other people might be throwing away. The whole idea is to stop sending things to landfill that might be useful to someone else. A noble cause!
The FreeCycle Network is made up of almost 5,000 regional groups, with a total of nearly 9 million members. Happily our region is represented, with FreeCycle Illawarra.
The way it works is you first join up to your regional group, and then you'll start receiving emails. Some will be people wanting things, some will be people offering things. You can only offer things for free (no money can change hands!), and all items must be legal and appropriate for all ages.
A few other local bloggers are active on FreeCycle, including NellyMary and Rich & Ally.
So, here are some of the cool things I've been able to pick up…
Lots of firewood. A guy at Gerringong had some trees fall down on his property, so I went down and cut them up with my chainsaw and brought back many trailer loads. I'm still splitting it, but we won't go cold for a few winters!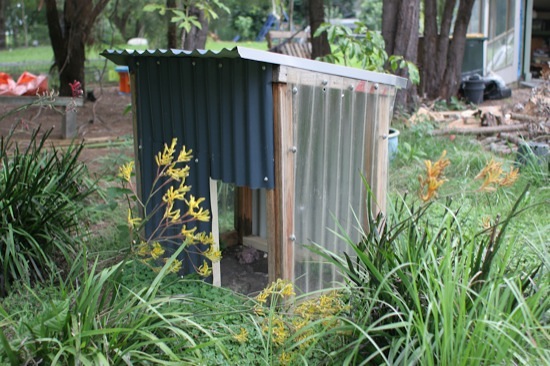 A dog kennel.
A stainless steel BBQ plate. It's very heavy and quite thick, so it'll go great on a traditional stone-sided wood-fired barbie.
While collecting the above BBQ plate, I noticed the guy had a pile of scrap metal in his front yard waiting for the recycler. He said I could take whatever I wanted. These galvanised flues, and the capped flue below, will be great for building a wood-fired pizza oven like Gavin's cob oven!
I've also given away some stuff on FreeCycle – a microwave and a few other small things.
So how about you – have you used FreeCycle? What did you give away or get?