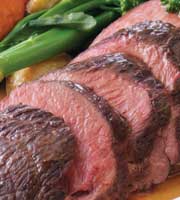 New Scientist magazine has just published an article about the sustainability of kangaroo meat for human consumption. If you're interested read it now, as I think free access to the full article is removed at some period after publication.
The article looks at issues like methane production, water use, feed conversion efficiency, orphaned joeys, humane harvesting, etc and draws comparisons with traditional meat livestock. After weighing up the issues, it comes down in favour of ramping up kangaroo production, with the 10-year-vegetarian author finally succumbing happily to a plateful of kangaroo stroganoff.
I wrote about the sustainability of kangaroo meat a while ago, and this article backs up my thoughts.
What about you? Have you tried kangaroo? What do you think? Could it replace traditional meat livestock, or do you see it as more of an occasional treat, like venison?