Tonight we had a couple of [kangaroo mini-roasts](http://www.macromeats-gourmetgame.com.au/Products.aspx) for dinner, bought from our local Woolworths supermarket.
I've eaten kangaroo many times before, and like it just as much as beef. Megan has never been quite so keen, simply because it's kangaroo. However, we both enjoyed this pre-packaged roast. It was quick and easy to cook, and tasted great.
So why is eating kangaroo meat good for the environment?
Kangaroos are soft-footed native animals, and so don't damage the land like hoofed sheep and cattle can. They eat less than sheep and cattle, are adapted to drought conditions, and produce little or no methane (a major greenhouse gas, with livestock being one of the biggest sources).
From a humanitarian point of view, kangaroo meat is better too. Kangaroos free-range in the wild, and are harvested humanely. The RSPCA has independently monitored kangaroo harvesting, and [reports](http://www.environment.gov.au/biodiversity/trade-use/publications/kangaroo-report/index.html) that 99.8% of kangaroos commercially killed are dispatched by a high powered bullet to the head or the junction of the head and neck. This is much better than intensively-reared pigs, chickens, sheep or cattle and the way they're dispatched in slaughter-houses.
The RSPCA [issued a report](http://www.kangaroo-industry.asn.au/media/animal_welfare.html) that said "if achieved correctly, kangaroo culling is considered one of the most humane forms of animal slaughter. An animal killed instantly within its own environment is under less stress than domestic stock that have been herded, penned, transported."
Some years ago I had a holiday in [Wilcannia](http://en.wikipedia.org/wiki/Wilcannia,_New_South_Wales). Yeah, I know, it's not your run-of-the-mill tourist destination! We were visiting friends working there as teachers. I saw roo shooters in action, and they really are dead-accurate with their rifles. If they don't get a clean shot first go, the kangaroo is no good for sale. They will also lose their license if they don't get consistent clean kills. So there is a very strong economic incentive for them to do the right thing.
The population of kangaroos in 2007 was estimated at 24 million. They are one of the most abundant large wild land mammals on Earth.
Organisations such as the CSIRO, RSPCA and Greenpeace all seem to agree on these points according to articles [in Ecos](http://www.ecosmagazine.com/?act=view_file&file_id=EC145p26.pdf) and [the ABC Science Show](http://www.abc.net.au/science/features/skippysizeme/).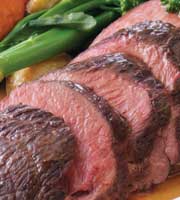 From a dietary point of view, kangaroo is also a very desirable meat. It's very lean, high in iron and protein, and won't contain any of the usual undesirable chemicals found in domesticated livestock (hormones, antibiotics, medications such as drenches, etc). Because of the rigorous inspection standards (much higher than other farmed meats), it is also of higher quality at the retail outlet and carries a much lower risk of food poisoning. It's also pretty cheap compared to other red meats.
Heck, even [Don Burke agrees](http://www.burkesbackyard.com.au/1998/archives/26?p=2870) – to ignore him is positively unAustralian!
Have you tried kangaroo? Do you eat it regularly? Let me know what you think in the comments!